All-On-4 – Rock Hill, SC
Stability. Longevity. Functionality.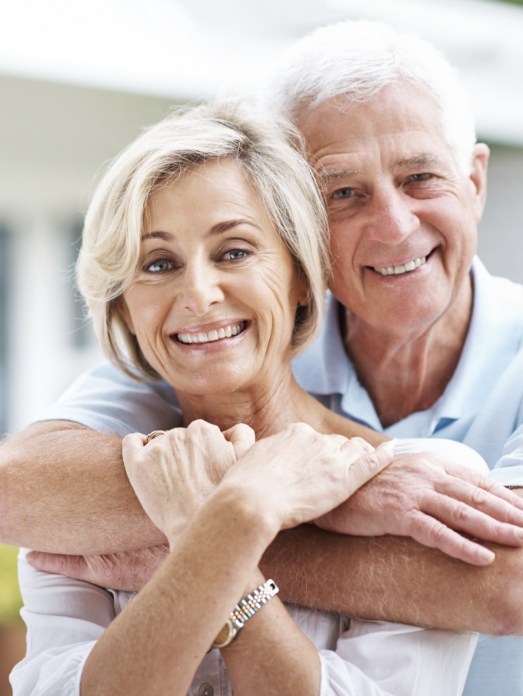 When learning you're ineligible for regular implant dentures, you might assume your only option is to settle for traditional prosthetics. Wearing teeth that only rest on your gums and require special adhesive to hold them in place can be frustrating and make you feel helpless. Fortunately, at Coombs, Ross & Sourlis Family Dentistry of Rock Hill, our team of experts has an alternative solution that will help you achieve a healthier, more beautiful smile – All-On-4 in Rock Hill! Requiring only four dental implants, this unique solution offers patients with minimal bone density the opportunity to enjoy a fully functional smile that can last a lifetime. Contact us today to schedule an appointment.
How Do All-On-4 Implants Work?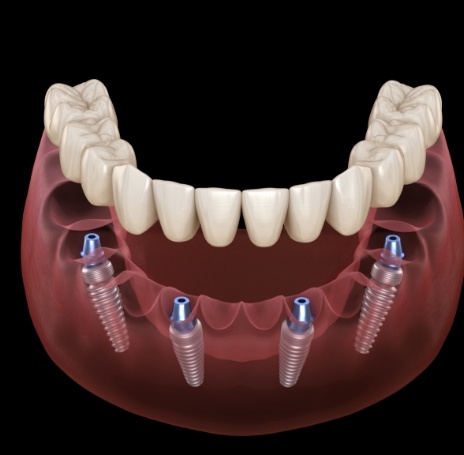 Regular implant dentures require between four and six dental implants. However, All-On-4 uses four implant posts to create a firm and balanced foundation. Two posterior implants are placed at a 45-degree angle toward the back of the mouth while two anterior implants are placed toward the front of your mouth. Not only do our dentists identify the densest areas of your jawbone to place each implant, but they ensure a balanced bite and appearance once the implants are firmly in place.
Am I a Candidate for All-On-4 Implants?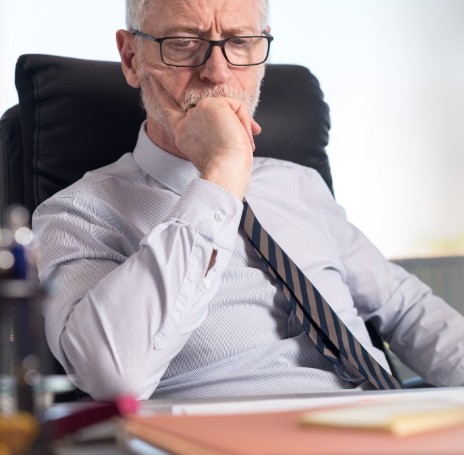 When meeting with your implant dentist in Rock Hill, you will discover most adults are eligible for All-On-4. If you've lost all your teeth but do not possess enough jawbone to adequately support regular implants, this unique alternative might just be for you. Of course, we will first need to check your oral and overall health to ensure you do not show any signs of tooth decay or gum disease. You'll also need to be healthy enough to undergo minor oral surgery.
You can expect our team to also talk with you about your lifestyle habits as well as your nutrition and commitment to a good oral hygiene routine.
Benefits of All-On-4 Implants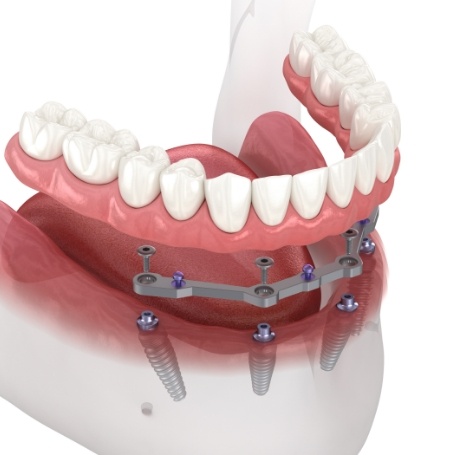 There are many benefits that come with All-On-4 dental implants in Rock Hill. Some of these include:
The ability to eat your favorite foods without worrying about a prosthetic that requires messy adhesive to remain in place while eating or speaking.
An easy-to-clean solution that doesn't require specialized cleaning supplies.
A stronger bite force and chewing power.
A fuller, more youthful appearance because of how your implants will fill out your face and prevent sagging.
Continuous stimulation to your jawbone to avoid facial collapse and additional tooth loss.
A long-lasting prosthetic that can remain in place for 30 years or more or even a lifetime.
All-On-4 vs. Traditional Implants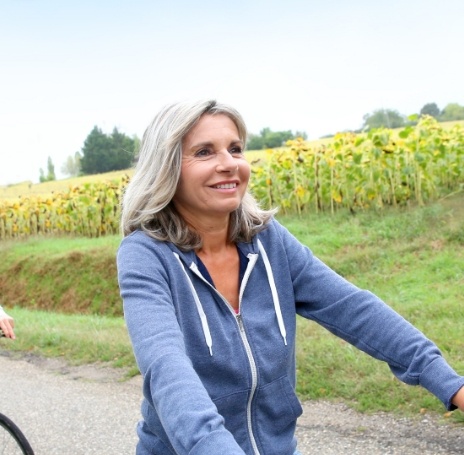 At first, it might be difficult to understand the differences between All-On-4 and regular dental implants. However, when you begin to really learn more about each one, you will find All-On-4 is truly unique. For instance:
You'll pay less for treatment because All-On-4 uses only four dental implants instead of up to six with regular implants.
You can forgo bone grafting, which will only add to your timeline and overall costs.
You may be able to receive your new teeth the same day as your All-On-4 oral surgery.
All-On-4 FAQs
Stability. Longevity. Functionality. You deserve these essential traits and more when it comes to your smile, and All-On-4 dental implants in Rock Hill can help. It's natural to have some questions about this state-of-the-art tooth replacement treatment, and we want to help you make a confident, well-informed decision. We'll be more than happy to walk you through the entire procedure and answer all your questions during your consultation. In the meantime, we've gathered some of the most common questions we get about All-On-4 dental implants so you can learn more. When you're ready to schedule your appointment, please give us a call.
Will It Hurt to Get All-On-4 Dental Implants?
We partner with trusted local dental implant specialists for the placement surgery portion of your treatment. With their expertise and advanced training, you'll have the highest chances of a successful dental implant placement. They'll also take all the necessary steps to ensure you are as comfortable as possible during your appointment. Oftentimes, this will include a type of dental sedation in addition to a local numbing medication. All in all, you shouldn't feel any discomfort while getting All-On-4 dental implants.
How Long Is the Recovery Period for All-On-4 Implants?
After your dental implant surgery, you'll need a few days to a week to recover. You'll need to eat soft nutritious foods, rest, be careful with your oral hygiene, and take other precautions for at least three days afterwards. However, your jawbone will continue to heal long after you feel better after your treatment! This step is called osseointegration, which is when the titanium dental implants and your jawbone fuse together to create a strong, lifelike foundation. Naturally, this is a somewhat slow process, but it is typically faster than getting traditional implant dentures. Your dental implants will be fully integrated in about three to four months.
Will My New Smile Look Natural?
Your new All-On-4 dental implant smile will look incredibly lifelike. In fact, it should be virtually indistinguishable from the real thing! All-On-4 dental implants are crafted from high-quality materials that are well-known for how much they resemble the appearance of natural teeth. Our restorations are carefully fabricated based on impressions of your mouth to ensure they look just like your home-grown pearly whites did! Plus, you won't need to remove your All-On-4 implants to eat or sleep, making them even more like a natural smile.
How Long Do All-On-4 Dental Implants Last?
With the proper care, you can easily expect your All-On-4 dental implants to last a lifetime! Their unique placement directly into your jawbone helps prevent changes in your facial shape. This in turn ensures that your All-On-4 dental implants never lose their fit. However, All-On-4 implants aren't infallible, especially if you don't practice great oral hygiene. This could lead to peri-implantitis, which is an infection in the gum tissue that is the leading cause of dental implant failure. As long as you practice great oral hygiene, protect your dental implants, and visit us for regular checkups twice a year, you can easily count on your new smile to last for decades to come.