Sedation Dentistry – Rock Hill, SC
Relieve Dental Anxiety at Every Visit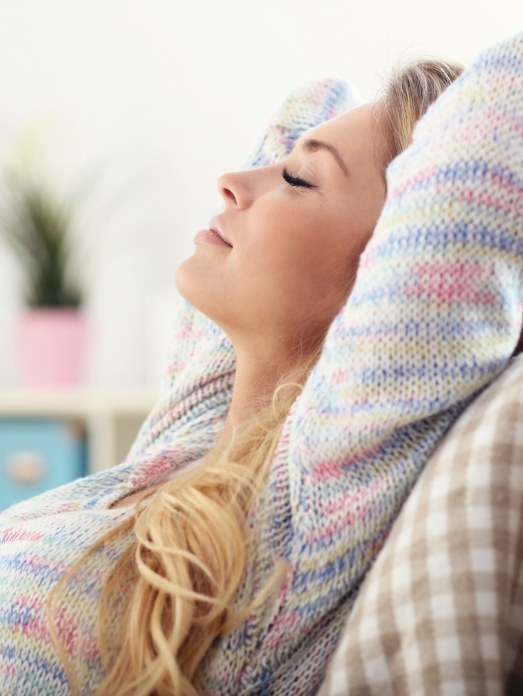 At Coombs, Ross & Sourlis Family Dentistry, our team makes every effort to help the people we see feel at ease and right at home. However, we also understand that dental phobia is a powerful thing that can't always be easily overcome by our friendly approach. If you experience a lot of anxiety and fear before your impending appointment, ask us about the possibility of undergoing sedation. Drs. Coombs, Ross, and Sourlis offer multiple techniques that are designed to calm nerves and create a more soothing atmosphere for your treatment to proceed smoothly. Contact us today to get started learning more about your options for sedation dentistry in Rock Hill, SC.
Oral Conscious Sedation Dentistry
Unlike nitrous oxide that is considered a milder form of sedation, oral conscious sedation in Rock Hill is designed for patients who suffer from moderate dental anxiety. This method is safe to use and highly effective at calming nerves and keeping patients at ease throughout a dental procedure. When choosing oral conscious sedation, individuals can expect to have someone escort them to and from their appointment as a safety measure.
What is Oral Conscious Sedation?
Oral conscious sedation requires patients to take a prescribed pill provided by their dentist. Our dental team will provide thorough instructions as to when the person should take the medicine before their appointment.
Designed for individuals who suffer moderate anxiety when visiting the dentist, it is one of the most widely used and recommend options of sedation.
Although individuals are not fully sedated when receiving oral conscious sedation, it is unlikely they will remember much from their appointment.
How Does Oral Conscious Sedation Work?
Oral conscious sedation comes in the form of a medication that our team will prescribe to patients. Patients are given directions on when to take it before the appointment is set to begin, and a trusted friend or family needs to escort them to and from the dental office for safety purposes.
Once the effects have started, patients should enter a deep state of relaxation while remaining conscious enough to respond to any requests or questions from our team. This allows for more efficient and effective treatment, as our team will be able to move through the appointment more swiftly. It also makes the patient completely calm, eliminating any nerves that might potentially cause fidgeting, gagging, or refusal of treatment.
Are You a Good Candidate for Oral Conscious Sedation?
Although oral conscious sedation is a safe method of treatment, it is necessary that a sedation dentist in Rock Hill discuss a person's complete medical history as well as any medication they are currently taking.
Individuals who suffer from any of the following can expect to be good candidates for treatment:
Mild or moderate dental anxiety
Sensitive/strong gag reflex
The person is preparing to undergo multiple dental procedures
The inability to maintain appointments due to fear
Keeping the mouth open for prolonged periods is difficult
Difficulty sitting for extended periods
Past dental trauma
If a person is pregnant, takes certain medications, or suffers from respiratory illness, it is likely that oral conscious sedation will not be recommended. There is the potential for side effects, which is why a dentist must know about any current medications or conditions before recommending sedation dentistry.
Nitrous Oxide Sedation Dentistry
Most people know nitrous oxide by another name – laughing gas! This light form of sedation is administered through a mask that fits over the nose. As patients breathe it in, they should start to feel more content and relaxed in minutes while remaining fully awake. One of the biggest benefits of this method is that the effects wear off quickly after the mask is removed, which means that you won't need an escort or inconvenient downtime. Patients can return to work or their daily routines right away. Contact our office to learn more about nitrous oxide in Rock Hill.
Who Is A Good Candidate for Nitrous Oxide?
Nitrous oxide is a safe and efficient sedation option for individuals with mild or moderate dental anxiety. Adults who struggle with visiting the dentist will find this unique solution is highly effective in calming nerves and creating a more enjoyable and relaxing environment.
Before any type of sedation is offered, however, you and our team will discuss your medical history as well as any medications you are currently taking.
If you exhibit any of the following, there is a good chance you'll be a candidate for nitrous oxide:
You have a sensitive gag reflex
You have trouble getting numb
You have mild or moderate dental anxiety
You've had a traumatic dental experience
You have difficulty getting and remaining comfortable in the dentist's chair
You have tooth sensitivity
You have a fear of needles
Certain individuals will likely not be recommended for nitrous oxide simply because of a health condition or temporary situation. Those who are pregnant, have a respiratory problem, are battling sinus congestion, or who are taking certain medications will be required to seek an alternative option.
How Does Nitrous Oxide Work?
The process of receiving nitrous oxide is simple and painless. When you arrive for your appointment, your sedation dentist in Rock Hill will place a nasal mask over your nose and instruct you to inhale. Within minutes, you'll begin to feel the effects of the nitrous oxide and oxygen mixture.
Throughout your appointment, our team can manage the level of gas you receive to ensure your comfort. You'll feel more relaxed and comfortable, and you might even feel as if you're floating. This is completely normal.
Once everything is complete, we will turn off the gas. Within only a matter of minutes, the effects will wear off, and you'll be free to leave without the help of an escort. You can return to work immediately following your appointment.
Aftercare for Nitrous Oxide
Patients who receive nitrous oxide will appreciate the fact there are little to no side effects. Considered the mildest form of sedation, you will not experience any grogginess after your treatment. Instead, you will feel completely normal and be able to resume normal activity after your visit.
IV Sedation
If the other two types of dental sedation aren't enough to keep you relaxed during your visit, we may recommend IV sedation. It's commonly used during oral surgeries or longer procedures, and it's particularly effective when it comes to reducing high levels of anxiety and soothing dental phobias. Our team has been trained in the use of IV sedation, so you can rest assured that you'll remain safe and comfortable in our expert care during your visit.
What Is IV Sedation?
For this sedation method, the medication is delivered directly into your bloodstream, meaning the effects kick in very quickly. You will remain conscious, but you likely won't remember anything that happens during the procedure due to being in an extremely deep state of relaxation. For your safety, our team will keep a close eye on your vital signs – meaning your blood pressure, your oxygen levels, your temperature, and your heart rate – the whole time you're under the effects of sedation.
When getting ready for a procedure that involves IV sedation, you need to remember that it can take an entire day for the effects to wear off. As such, you need to have a friend or family member you trust come pick you up after your appointment so that they can drive you home.
Who Is a Good Candidate for IV Sedation?
IV sedation is recommended in a few different situations, such as:
Patients who have severe dental phobia or anxiety that can't be sufficiently soothed by other methods.
Patients who are undergoing longer treatments.
Patients who have powerful gag reflexes that tend to make dental work of any kind more difficult.
Patients who have a hard time getting numb when a local anesthetic is used.
Of course, in addition to considering your needs, we'll also have to confirm that you're in good enough health to receive IV sedation without any complications. We'll speak to you about your medical history as well as any medications that you're currently on in order to confirm that IV sedation is a safe option for you.
The Benefits of IV Sedation
There are several reasons why patients choose IV sedation to help them relax during their dental visits:
Since you likely won't remember anything that happened while under the effects of IV sedation, you won't have to worry about potentially traumatizing dental memories that could make it harder for you to go back to the dentist in the future.
You don't have to wait long for the effects to kick in once the sedative is in your bloodstream.
We can control the flow of the medication, meaning we can adjust the level of sedation as need be throughout your treatment.
If you've avoided dental treatments in the past out of fear, IV sedation can make it easier to get the care you need, improving your oral health as a result.
Sedation Dentistry FAQs
If you suffer from dental anxiety, sedation dentistry may be the answer you're looking for! However, it pays to be well-informed. Here are answers from your sedation dentist in Rock Hill. If you don't see the information that you're looking for below, don't worry! Contact our team here at Coombs, Ross & Sourlis Family Dentistry, and we will be happy to answer your questions and set you up for an appointment when you're ready.
How is nitrous oxide provided to the patient?
Nitrous oxide is transmitted by way of a nasal hood. The administration of this gas is controlled with a knob and a switch to ensure the proper dosage is provided. A flow meter is used to regulate the device and help monitor the gas level in the patient's system to determine if it is safe.
What does dental nitrous oxide feel like?
Dental nitrous oxide feels quite pleasant, to say the least. Most patients report a tingling sensation that leads to a sense of euphoria. Above all, patients feel relaxed after nitrous oxide is applied.
Why is nitrous oxide effective at preventing pain?
Ask anyone who has used nitrous oxide for a dental procedure and he or she will testify it works to perfection. Nitrous oxide resolves fear as well as anxiety by depressing the patient's senses. Nitrous oxide also lowers one's sense of touch, pain, and hearing.
Can I drive following a dental appointment in which nitrous oxide was used?
One of the primary benefits of using nitrous oxide for dental procedures is the dentist can control the timing and dose. Once the gas is turned off, the patient will merely have to take a couple of deep breaths to enjoy mental clarity. You can drive home from the appointment without worrying about an accident. However, if you feel lightheaded after the procedure and have even the slightest suspicion you are unable to drive safely, it is in the best interest of everyone on the road to coordinate a ride home.
Is dental nitrous oxide safe?
The use of nitrous oxide is completely safe. While nitrogen might not be safe on its own, it poses no threat at all in the form of nitrous oxide. The nitrous oxide treatment application has about 70 percent oxygen and 30 percent nitrogen. If the medical procedure is especially serious, there will be a balance of 50 percent nitrogen and 50 percent oxygen.
Is oral conscious sedation safe?
When used by patients who have been cleared for this type of dentistry, it is a perfectly safe way to achieve dental care in a more relaxed state. Before your treatment, you will discuss your medical history as well as any medications you are currently taking. This way, we can make sure that there won't be any negative interactions or complications.
Will I remember anything with oral conscious sedation?
When using this sedation method, you will not be asleep. Instead, you reach a deep level of relaxation, so you won't feel any discomfort. You will even be able to respond to verbal cues from your dentist. You probably won't remember much of your procedure. This memory loss can make it easier for patients with extreme dental phobia to receive care without worrying about having a negative experience.
What should I do after oral conscious sedation?
It can take a few hours for the effects of the sedative to dissipate, so you will need to arrange for a trusted friend or family member to drive you home. It is best to rest for the remainder of the day. Take it easy and drink plenty of water to stay hydrated. Carefully follow any aftercare instructions from your dentist
Can you feel pain under oral conscious sedation?
You should not feel any pain during your treatment, but you may feel sensations of pressure. If you feel any discomfort during your procedure, let us know so we can take additional steps to help you feel as comfortable as possible.
Will dental insurance pay for my sedation?
This depends on the type of dental insurance plan you have. Most will not offer coverage for oral conscious sedation, but we have other financial options that can help you get the treatment you need. In addition to our VIP Smile Club, we work with CareCredit. Talk to one of our friendly team members to learn more about your options.