Implant Dentures – Rock Hill, SC
No More Slipping or Irritation
Losing one tooth is problematic, but losing an entire arch of teeth – or even worse, both arches – can cause your quality of life to drastically plummet. Eating becomes extremely difficult, you aren't able to speak clearly, and you'll likely lose your confidence. While traditional dentures can help with these problems to some degree, implant dentures feel much more natural and can better match the functions of your natural teeth. Call Coombs, Ross & Sourlis Family Dentistry today to schedule a consultation and learn more about the difference that implant dentures in Rock Hill can make.
What Are Implant Dentures?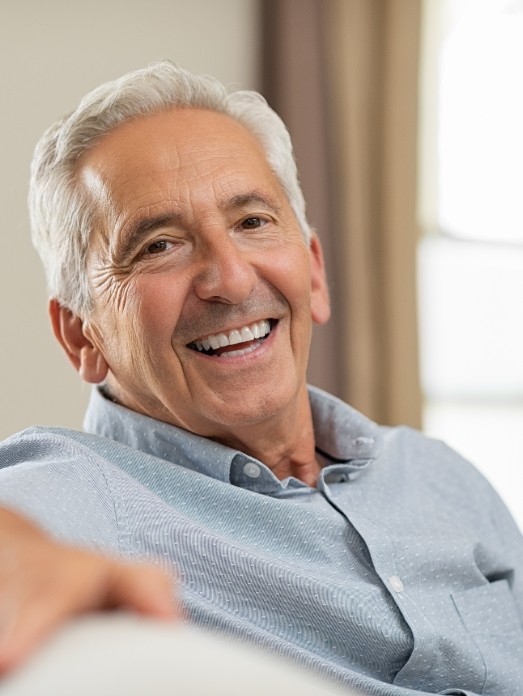 Implant dentures are exactly what they sound like: dentures that have been attached to implant posts. This approach to replacing teeth will give your dentures better support and stability so that they look, feel, and function more like your missing teeth. The exact number of implant posts used depends on the kind of implant dentures you get as well as other factors like the size of your jaw. Once we decide that implant dentures are right for you, we can recommend one of the two following options.
Fixed/Permanent Implant Dentures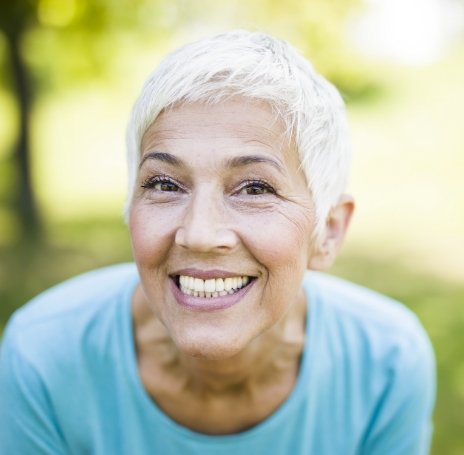 We can attach your dentures to your implants in a way that leaves them firmly in place at all times. Only your implant dentist in Rock Hill can remove them. Fixed implant dentures can be brushed and flossed like normal teeth, which makes them easy to take care of. We can use 4 to 6 implants to support a fixed denture.
Removable Implant Dentures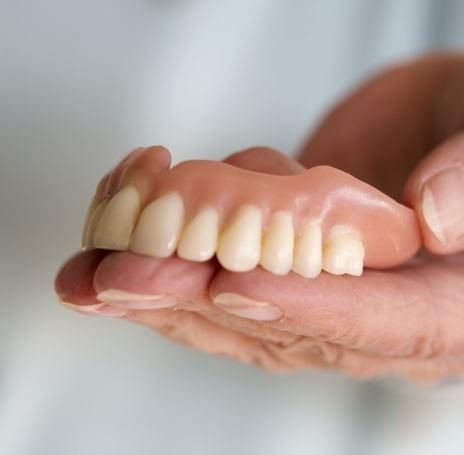 Patients with less jawbone density might consider getting removable implant dentures, which require fewer dental implant posts than fixed implant dentures. The prosthetic teeth snap into place using clips or ball sockets, and you can take them out to clean them. This also lets you brush your gums so that bacteria don't accumulate underneath your false teeth.
The Implant Denture Procedure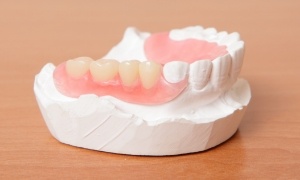 You may need additional procedures such as bone grafting or a sinus lift to prepare the jaw for implant surgery. Once your mouth is ready, we'll schedule the first phase of the treatment: dental implant placement. Your mouth will be numbed while implant posts are inserted into select areas of your jaw. It might be possible to place temporary dentures on the implant posts depending on the kind of procedure being performed. The implant posts will fuse with your jaw over the next several months; a permanent denture can be attached once your mouth has sufficiently healed.
Am I a Candidate for Implant Dentures?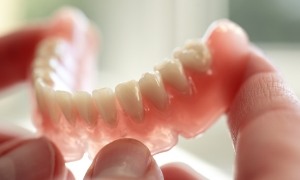 Anyone who is missing all of their natural teeth in one or both arches can be a candidate for implant dentures. They're also a good option for people who currently wear regular dentures that are tired of having teeth that slip around. To determine if you can get implants, we can evaluate your jawbone during an implant consultation at our office. We'll check to see if you're eligible for implant surgery right away or if you need to undergo preliminary treatment first.
Benefits of Combining Dentures & Dental Implants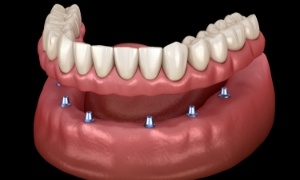 New teeth that have up to 70% of the biting force as natural teeth, letting you eat whatever you want.
A new smile that looks and feels natural.
Implant posts that stimulate the jawbone and preserve its density.
Additional support for your facial structure
A permanent solution for missing teeth that's cost effective over the long term.
Implant Denture FAQs
Have you been using a denture for a very long time? If so, you may already know about the setbacks that come with using one, especially in the long-term. If you wish that your prosthesis was not only more reliable, but more natural-looking, then an implant denture is likely the best option for you. If you're brand-new to this treatment, feel free to look over the most common questions our practice hears (as well as our detailed answers).
Can my current denture fit on top of dental implants?
This really depends on the current condition of your existing denture. For example, if your denture is relatively new, it may be able to be retrofitted or modified to fit onto dental implants. However, if this is not the case, a new denture will be designed and fabricated.
Are implant dentures fixed or removable?
Implant dentures can be either fixed or removable depending on your preference. Choosing a fixed prosthesis means that only the dentist will be able to safely remove it. However, if your denture is removable, that means you'll need to take it out for routine cleaning like you would a traditional denture, which some people prefer.
How many implants need to be placed?
Generally, implant dentures require anywhere between four and six dental implants to be held in place. With that said, if you are providing foundation for a partial denture, you will probably need fewer dental implants to keep it stable.
Are implant dentures safe?
Our office partners with a trusted dental implant specialist to perform the surgical portion of your treatment. When treatment is performed by a professional, you can expect your tooth replacement process to be 100% safe. Additionally, we take all the necessary steps to ensure your gum and bone health are accounted for before any phase of treatment is completed.
How long do implant dentures last?
When properly taken care of, an implant denture can last for as long as 20 years and even longer. This is a significant difference from how long the average traditional denture lasts, which is usually between five and seven years.
Will my new denture "feel" like real teeth?
Absolutely! Dental implants are meant to mimic tooth roots in almost every way possible, meaning they will feel just as much like regular teeth as your natural teeth did. This also means you can expect renewed biting strength, making it easier to chew your favorite foods with confidence.
How do I take care of my implant denture?
Always brush twice a day with fluoridated toothpaste and floss at least once a day. Use a dedicated water flosser to remove food debris from underneath the denture more easily. You'll still need to maintain regular dental checkups at our office every six months.