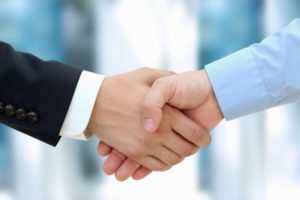 On the hunt for a new dentist? Finding someone who is both skilled and compassionate isn't always easy. At Coombs & Ross, we're dedicated to making dentistry a positive experience for every patient who steps into our office. Would you like to get to know us better? Here's some basic info about your local family dentist in Rock Hill.
Our Dentists
We have two talented, friendly dentists leading the team in our office:
Dr. Paul Coombs got his initial dental education right here in South Carolina. He graduated first in his class from his residency at Naval Hospital in San Diego. After serving as a dental officer in the Navy for a couple of years, he returned to South Carolina and has been in private practice ever since. He has extensive training in both general and cosmetic dentistry.
Dr. William Ross also got his initial dental education in South Carolina, and he has excelled in his profession ever since graduation. He is passionate about advancing dental care and continuing his own education. He is currently pursuing the prestigious Mastership designation from the Academy of General Dentistry.
A Focus on Family
Both of our dentists have families of their own, so they understand kids and know that finding a dental professional who puts children at ease can be a challenge. That's why they're eager to welcome young patients and go out of their way to make little ones feel comfortable with their gentle touch and kind manner. If your child has severe dental anxiety, be sure to let our team know. We may be able to use a sedation technique to help them relax (sedation is available for grown-ups, too).
For adults and children alike, we provide a range of services that aim to prevent and treat all of the common dental issues, but that's not all. We go above and beyond the basics by offering treatments that help you have a smile that's as beautiful as it is healthy. As your cosmetic dentist, we offer veneers, whitening, and more. We can even provide ClearCorrect braces, which help you get the straight smile you've always wanted without all the ugly brackets and wires of traditional braces.
Dental Disaster? We Handle That Too
Part of the beauty of life is its unpredictability — unfortunately, that unpredictability also has a mean side. As your emergency dentist, the team at Coombs & Ross is always willing to welcome patients who need attention right away. Just call our office when you're on your way and let us know what is going on so we can get you the treatment you require ASAP.
Now that you know a bit more about your local Rock Hill Dentists, what do you think? If you'd like to meet Dr. Coombs, Dr. Ross, and the rest of our team in person, we'd be happy to welcome you into our office. To schedule an appointment or ask questions that you might have about us and our practice, please contact us at 803-324-5301.