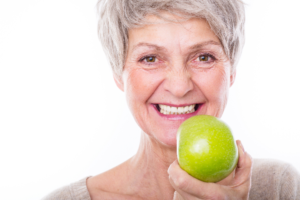 Throughout your life, you had never expected to lose your teeth, but now you are among the 36 million Americans who are suffering from complete tooth loss. To regain your smile, you have tried traditional dentures, but they just do not feel natural. If you are tired of dealing with slipping, irritation, and limiting the foods you eat, you do have an alternative solution. Now, dental implants hold a common place in promoting adult oral health for those who are missing all their teeth. You will regain the next best thing to your natural smile while enjoying a long-term solution.

Benefit from Implant-Supported Dentures
Implant-supported dentures are different than traditional options because they do not use a denture adhesive or suction to hold the appliance in place. Instead, dental implant posts are surgically placed into the jawbone to anchor it. This provides an array of benefits that are not possible with conventional solutions, including:
Long-Term Results: Dental implants have the potential to last for a lifetime with the right aftercare, like maintaining your oral hygiene and preventive appointments. In fact, they have over a 95% 10-year success rate, allowing you to make a long-term investment in your smile.
Stability and Comfort: Your jawbone will fuse to the implant posts, creating a secure and stable foundation for the denture. When compared to traditional options, dental implants provide an increased biting force of over 70%. You will not have to worry about any slipping, discomfort, or irritation because they will closely feel and function like your real teeth.
Protect Bone Density: Dental implants are the only tooth replacement option to not only stop bone loss but help to preserve it as well. The implants stimulate the jawbone to encourage new bone growth. This will improve your oral health while also protecting your facial structures from deteriorating.
Easy Care: Caring for dental implants is similar to caring for your real teeth. You will not need any special cleaning or soaking solutions. Just brush and floss as you normally do while taking extra time to clean around the implant posts.
Complete Your Smile
When it comes to replacing your missing teeth, you have a couple of different options when choosing dental implants:
Implant-Supported Bridge: If you still have a few remaining natural teeth, an implant supported bridge can be used instead of a traditional bridge or partial. On average, 1 to 2 dental implant posts will be used.
Implant-Supported Denture: If you are suffering from complete tooth loss, the denture arch can be held in place using dental implants.
All-on-4: This is the most common treatment to resolve complete tooth loss. 4 dental implant posts are used to hold the denture in place.
Treat Your Tooth Loss Today!
Invest in your quality of life and confidence today with dental implants.
About Coombs & Ross Family Dentistry LLC
Coombs & Ross Family Dentistry LLC provides advanced dental care to promote your oral health. In addition to general dentistry, we offer many areas of specialized care, like dental implants. If you are ready to treat your tooth loss, contact our office today to schedule your consultation for a complete smile.