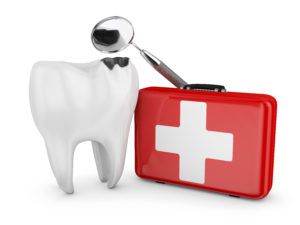 It's easy to brush off tooth pain as nothing serious at first. However, when the pain doesn't go away or starts to worsen, the last thing you should do is ignore it even more. In fact, your tooth pain could be a sign of something more serious that requires prompt treatment.
If you are experiencing any of the following types of dental emergencies, you'll need to pay a visit to your Rock Hill dentist. Keep reading to learn why.
When You Have Severe Tooth Pain
When you experience minor sensitivity that occurs when you eat and drink hot or cold foods, that's typical. Most people have some level of tooth erosion where sensitivity occurs, therefore, it's not likely a dental emergency. If tooth sensitivity doesn't go away, even after external stimuli has ceased, then that's a sign that something else is wrong. This is also the case with significant tooth pain.
Severe tooth pain can be caused by tooth decay, trauma, an infection, or an abscess, but you won't know until you visit the dentist, preferably the same day you discover pain or sensitivity. You can take Advil or Motrin to manage this pain, but don't use it as a substitute for seeking real treatment as soon as you're able.
When a Tooth Has Been Knocked Out
Any time a tooth is knocked out you'll want to get to the dentist right away. Not only is it a bad idea to leave your socket exposed to bacteria, but your dentist can actually save the tooth and reimplant it when there's enough left and you get to the dentist in time. To keep your tooth preserved, you can either place it back into the socket how it was originally, or you can place it into a container of milk, saline solution, saliva, or saltwater.
When a Restoration Comes Off
When a dental crown or filling falls out, it exposes the vulnerable parts of your tooth to bacteria and food debris. It's possible to place the restoration back using dental cement, but this should only be done when getting to your emergency dentist in Rock Hill is not immediately possible.
If the restoration is lost, you'll need to have it replaced. If it's broken into too many pieces or simply won't stay in the mouth, bring it to the practice so your dentist can examine it. You'll likely need to replace it, but it's always worth keeping until you get your dentist's opinion.
Why Getting to Your Dentist Quickly Matters
The faster you get to your dentist, the sooner you can find out what's wrong and get necessary treatment. In the case of an avulsed tooth, getting to the dentist sooner with the tooth increases the chances of it being saved. Waiting longer than an hour after the dental injury occurred decreases the chances significantly. It can only be preserved in a container for so long, so don't put off your visit.
In the event of a dental emergency, don't hesitate! Get to your Rock Hill dentist as soon as possible to improve your outcome!
About the Author
Dr. Paul Coombs earned his dental degree from the Medical University of South Carolina. Thanks to his general practice residency at the Naval Hospital in San Diego and his experience touring as a dental officer for the USS Samuel Gompers, your dentist has seen it all. If you are experiencing a dental emergency, don't hesitate to contact him at (803) 324-5301 or visit his website.