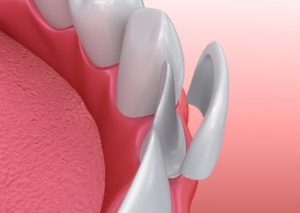 If you asked a cosmetic dentist to choose one procedure that can address a multitude of smile flaws, it would be porcelain veneers. Interestingly, the first veneers were used almost 100 years ago, when a dentist in Hollywood developed them to give to give film stars beautiful smiles. They've come a long since then and are one of the most popular cosmetic procedures today for a reason! If you'd like to know whether a dentist in Rock Hill could use porcelain veneers to give you a whole new smile, keep reading to find out what they can be used for and who makes a great candidate!
What Kinds of Problems Can Porcelain Veneers Address?
Here are some of the smile imperfections that porcelain veneers are perfect for:
Severe Staining – Some types of staining are so severe that traditional whitening treatments simply won't work. Examples are fluorosis and tetracycline staining from taking antibiotics as a child.
Chips and Cracks – If you have small chips or cracks that give your smile an aged look, porcelain veneers are a great way to take years off your appearance!
Small or Misshapen Teeth – Some people are simply born with small or misshapen teeth that don't blend in with the rest of their smile. Veneers are precisely matched in shape, size and color to the rest of the teeth, which gives a very natural-looking result.
Minor Crowding or Gaps – In some cases, crowding or gaps are minor enough that porcelain veneers can be used instead of orthodontics.
In particular, you can really benefit from this procedure if you have more than one of these issues. After all, you may as well kill two birds with one stone!
Who Makes a Good Candidate?
The best way to determine if you're a good candidate is to schedule a consultation with a dentist who offers cosmetic dentistry in Rock Hill. Here are some of the things they'll be looking for:
Reasonably good oral health – You would never put a new roof on a house with a faulty foundation, right? Your teeth are similar. A dentist will want to make sure your teeth aren't terribly crooked or unhealthy before they recommend veneers.
You don't clench or grind – Clenching and grinding put stress on veneers that can damage them over time, so a night guard is strongly recommended if you show signs of grinding.
Good home hygiene habits – You want to make sure that you can enjoy your new smile for many years. Although porcelain veneers are incredibly strong and durable, they still require good brushing and flossing to maintain them.
There's no question that porcelain veneers can give you a beautiful smile. Why not take advantage of all they have to offer?
About the Author
Dr. William Ross is a general, restorative and cosmetic dentist in Rock Hill with nearly 30 years of experience. He loves how porcelain veneers can completely transform the smiles of so many people with unique needs and goals and always works closely with each patient to make sure they get the results they're after. If you have any questions, he can be contacted via his website or at (803) 324-5301.