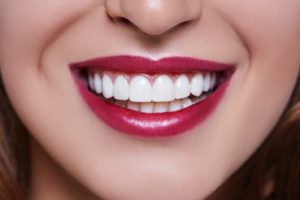 People interested in porcelain veneers know that they provide important cosmetic enhancements and personal satisfaction. But, sometimes they worry that veneers also require troublesome, time-consuming maintenance. If that sounds like you, then we have some good news: veneers are easier to maintain than you might think.
How to Keep Your Veneers Looking Their Best
In many ways, caring for your new veneers is no different than protecting the teeth you were born with. Here are five basic steps to follow:
Brush and floss as usual. We recommend using a non-abrasive fluoride toothpaste and a soft-bristle brush. You may want to consider a sonic toothbrush, which is especially gentle on veneers. Your dentist can recommend specific brands. Brush at least twice a day, more often if possible.
Avoid biting down on hard or tough foods. Let mints and candy dissolve in your mouth. Cut foods such as steak into small, manageable bites. Chew slowly and thoroughly.
Limit your use of products such as tea, coffee, soda, and red wine. Not only can they stain your veneers, many of these items are high in sugar and low in nutritional value. Fresh fruit is a nutritious alternative to sugary snacks.
If you use tobacco, please try to quit. Cigarettes, snuff, chewing tobacco, etc., will discolor not only your veneers but your natural teeth as well. Plus, they promote tooth decay and may cause life-threatening illnesses.
See your dentist for regular cleanings. This is important, not only for cosmetic reasons, but for your overall dental health. Non-alcoholic mouthwash and fluoride rinses are fine, but only a professional can remove tartar and plaque that have built up over the months and years.
Porcelain Veneer Tips for Special Cases
Certain circumstances may require special considerations. These include:
Misaligned, decayed, or broken teeth. You might need implants or other corrective measures before considering veneers.
Sensitivity to painkillers or anesthetics. Let your dentist know if you've had trouble while under sedation.
Prior injuries. Tell your dentist if you've ever suffered trauma to your mouth or jaw.
Teeth grinding. Ask your dentist about a mouthguard if you grind your teeth. Clenching your jaw can cause a host of problems, including worn enamel, migraine headaches, and back or neck pain. These are caused by the constant pressure exerted on your teeth and bones. Mouthguards and other prescription devices can relieve these issues.
Sports participation or other demanding situations. You may need to wear a special mouthguard during your activities.
Irregular or extended career demands. Veneers normally require 2-3 dental visits, as well as routine cleanings and examinations. Let your doctor know if work or other priorities may make it difficult for you to keep your appointments.
Is There a Dentist Near Me That Offers Veneers?
Most likely, yes! Veneers are a commonly requested procedure across the US and Canada. You can find out more by searching online or asking a friend who has veneers. Best of luck and we wish you plenty of happy smiles ahead.
About the Author
Dr. Paul Coombs began his dental career serving the men and women of the U.S. Navy. A native of Charleston, he serves the people of Rock Hill and surrounding areas by offering top-quality healthcare with a focus on patient satisfaction. You can reach him through his website or by calling (803) 324-5301.