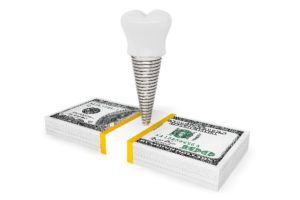 Living with tooth loss is no easy task. To regain a complete smile, you have tried traditional treatments, like a dental bridge or denture. While it did fill the empty space, it did not give you the results you wanted. Now, you are excited to choose the next best thing to your real teeth with dental implants in Rock Hill. Before you are ready to start the process, you have one concern—their cost. It is no secret that they cost more upfront than traditional options; however, they allow you to make a long-term investment. You will save money in the future because they can last forever.

How Much Will I Pay?
There is no easy answer to how much you can expect to pay for your new smile because there are several factors that will influence the cost, such as:
How many teeth are being replaced
Materials used
Sedation and anesthesia
Additional procedures, like bone grafting
Dental insurance
Each phase of your treatment will feature different costs.
Traditional Dental Implant
When only one tooth is missing, you can expect to pay:
Dental Implant: $1,000 to $3,000
Abutments and Crown: $500 to $$3,000
Implant-Retained Bridge
For several teeth missing in a row, you do not have to replace each one individually, which will help to lower the amount you will pay. A bridge of prosthetic teeth is created to fill the space. An average of one to two dental implant posts are used to anchor it in place. This can cost around $4,000, but the price can increase depending on how many posts are needed.
Mini Dental Implants
Mini dental implants do cost more than traditional posts; however, they offer a cost-savings opportunity becasue they can prevent the need for bone grafting. Often, they are used for those who have decreased density in their jawbone but do not want to undergo a bone grafting procedure. The mini posts can cost around $500 to $1,500, which is often more affordable because an additional procedure will no longer be needed.
All on 4
An entire arch of missing teeth can be replaced with All on 4 in Rock Hill. A custom-made denture is held in place using an average of 4 dental implant posts. Often, the process can be completed in just one day. Although it can cost around $30,000, it is more affordable long-term because they have the potential to last forever. You will not need to have them replaced or adjusted like regular dentures.
How Much Will I Pay?
Since the cost of the treatment is based on your individual needs, it is best to schedule a consultation with your dentist for an estimate. After creating a customized treatment plan, they will discuss the costs and your payment options to complete your smile.
About Coombs & Ross Dentistry
Dr. Coombs and Dr. Ross have provided comprehensive dental care to the community for more than 20 years. They offer the latest solutions to treat tooth loss, including dental implants. They can complete your smile using this predictable and successful option. Contact our office today to see if dental implants are right for you.