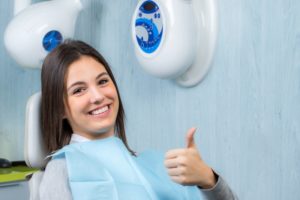 At Coombs and Ross Family Dentistry, one of our primary goals is to help our patients prevent dental problems and avoid the pain and expense of serious oral health problems. Routine checkups play an essential role in allowing us to reach that goal. When was your last cleaning and exam? If it has been more than six months, and if you're looking to partner with a talented dentist in Rock Hill, come to our office to take advantage of our new patient dental exam specials.
What Our New Patient Specials Include
Our new patient exam special includes a thorough professional dental cleaning for only $88. During the cleaning, feel free to ask your hygienist any questions you might have about how to care for your teeth at home. Listen closely as they give you personalized tips that will enable you to maintain your gorgeous smile between dental visits. Along with your dental cleaning, you'll also receive a new patient exam for just $162 — that's a savings of $200! The exam includes a thorough checkup by one of our talented dentists as well as any necessary X-rays.
Do you have little ones in your family? For a mere $206 (that's a discount of $163), they can receive their first cleaning and exam with us.
We encourage you to schedule your appointment soon; there's no telling how long these generous offers are going to be available!
The Importance of Routine Exams
Our new patient specials aren't just a gimmick to help us get more patients. Rather, they're our way of encouraging our community to be more aware of the need for regular dental care.
Some of the benefits you can reap when you attend dental checkups every six months include:
A professional cleaning rids your teeth of tartar, a hardened form of plaque that can't be removed by a regular toothbrush.
You can get advice that is tailored to help you cope with the specific challenges that might endanger your oral health. For example, if you have diabetes or are taking certain medications, your dentist can educate you about how your situation might affect your teeth and gums.
Your dentist's trained eye can spot tooth decay, gum disease, and other problems while they are still in their early stages. Getting such issues treated as soon as possible will spare you from more extensive dental work later on.
Regularly visiting your dentist helps you to establish a trusting relationship with them.
If, after your first visit to our office, you decide that we're the right dental practice for you, we invite you to join our VIP Smile Club. As a member of the club, all you have to do is make low monthly payments that completely cover your routine preventive care. You'll also get a significant discount (15 percent) on other services.
We can't overemphasize the importance of regular dental checkups and cleanings. Take advantage of our new patient specials to protect your precious smile without breaking the bank.
About the Author
Dr. Paul Coombs has been practicing dentistry for over 30 years. He and Dr. Ross always encourage their patients to be diligent about preventive care. If you'd like to learn more about our practice or our new patient specials, contact our office at 803-324-5301.