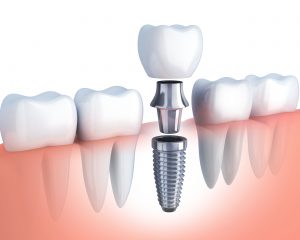 You've been missing teeth for a while now, and it's been getting you down. You used to love going out for a steak dinner with your family, but now you can barely chew it anymore. You used to love taking family pictures, but the gaps in your smile make you afraid of the camera. You figure it's about time to replace those missing teeth, but you can't decide between dental implants, bridges, or dentures. The choice is up to you and your dentist, but dental implants have more advantages than any other choice. Let's look at 5 benefits of dental implants.
What Are Dental Implants?
A dental implant is a titanium post that is inserted into the place where the missing tooth once was. The material of the post is designed to gradually attach itself to the jawbone, functioning in the same way as the root of a natural tooth. Your implant dentist will typically cover the post with a customized crown that matches your smile. Once you have healed from the procedure, that tooth should give you no problems. Now that we know what dental implants are, let's look at 5 benefits they provide:
1. Longevity
Dental implants are designed to last for several decades. With proper care, such as daily brushing and flossing, your implant can even last a lifetime. Bridges and dentures, on the other hand, need to be replaced every few years.
2. Convenience
Because dental implants are permanently attached to your jawbone, they are not removable. You don't have to deal with the hassle of taking out and cleaning dentures. Simply care for your implant as you would any other tooth. Oftentimes you might even forget you have an implant and not a natural tooth!
3. Improved Oral Health
Bridges usually require placing stress on surrounding teeth to support the structure. Over time, this can cause the bridge to collapse and the supporting teeth to be damaged. When you receive an implant, none of your other teeth are altered. Bridges also make it more difficult to brush and floss in that area, increasing the risk of tooth decay. Implants feel like natural teeth, so daily oral care is a breeze.
4. More Confidence in Your Appearance
Dentures and bridges might appear natural, but not nearly to the extent of implants. Since they fuse to your bone, they won't slip out of place when talking or eating like dentures might. Your implants will attach to your bone and become part of your anatomy. Coupled with the custom restoration on top of the implant, no one should even be able to tell you had dental work done.
5. Comfort
After a few months, dental implants literally become a part of you. They feel as sturdy as or even sturdier than natural teeth. They won't shift around like dentures will. They won't cause pain or discomfort like bridges do to supporting teeth.
Although dental implants can be expensive, they are definitely worth the investment. They provide more benefits than bridges or dentures. They allow you to feel more confident in your smile and enjoy your favorite foods again. Call your implant dentist today to learn if implants are right for you.
About the Author
Dr. William Ross received a Fellowship award from the Academy of General Dentistry in 1995, and he currently working toward the prestigious Mastership designation. He and Dr. Paul Coombs provide quality, family-friendly care to the Rock Hill, SC community. To learn about how they can replace your missing teeth and restore your smile with dental implants, click here or call them at (803)-324-5301.