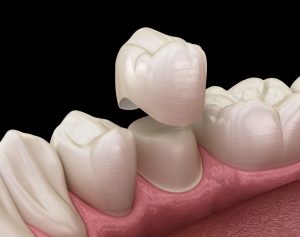 Emergencies happen, and you can't always plan for them. Your dentist understands that. If you break a dental crown, there's no need to worry. Using state-of-the-art CEREC one-visit crown technology, your dentist can craft a new temporary crown in one day until a permanent one can be created for you. Let's talk more about CEREC, crowns, and why they break in the first place.
What Is a Crown?
A dental crown is a "cap" that is designed to imitate natural tooth enamel and slip over a tooth in order to:
Repair a tooth too weak to sustain a filling
Protect a tooth after a root canal
Treat a broken or fractured tooth
Improve the appearance of a severely stained or abnormally shaped tooth
Cover a dental implant
What Should You Do If a Crown Breaks?
First and foremost, call your emergency dentist in Rock Hill and let them know that you have lost a crown. Teeth without a crown are more vulnerable to injury and decay, so it's important that you get it replaced as soon as possible. The staff will do everything they can to get you an appointment on the same day you call.
In the meantime, use a mirror or a trusted friend or family member to examine your mouth. Make sure there are no pieces missing from the tooth. If the crown is loose, pull it off so that you don't accidentally swallow it. If you're in pain, an over-the-counter pain reliever like ibuprofen should resolve the situation until you can see your dentist.
Why Do Crowns Break?
Because crowns are designed to mimic the material of natural teeth, they can unfortunately break like natural teeth. Here are some reasons that they might fracture:
Age. Even with regular brushing, flossing, and visits to your dentist, crowns usually don't last more than five to fifteen years. As they get older, crowns can break off with very little force.
Clenching or grinding. This bad habit can wear down your natural teeth as well as a crown. Talk to your dentist about getting a nightguard to prevent grinding or clenching from hurting your teeth and crown.
Hard and sticky foods. Although dental crowns are durable, they can still be broken or dislodged by foods like ice, taffy, or popcorn kernels. If you're going to consume these foods, chew on the side of your mouth that doesn't have the crown.
Why Are CEREC Crowns Better Than Traditional Ones?
Regular crowns typically take more than one appointment to place, but CEREC crowns can be installed in just one visit. This makes it easier for patients with dental anxiety, since they only have to come to the office once. Instead of sending the impressions of your tooth off to a lab and waiting for a few weeks for a permanent, your crown can be constructed in as little as one hour.
Speaking of impressions, that process is also easier with CEREC. Traditional crowns involve holding a sticky putty in your mouth for a minute or so while it creates an impression. CEREC uses 3D imaging to take a digital scan of your mouth, eliminating the need for uncomfortable putty.
As you can see, breaking or losing your dental crown is still an emergency, but thanks to CEREC technology, it's not the end of the world.
About the Author
Dr. William Ross earned a Fellowship in the Academy of General Dentistry in 1995, and is currently working on achieving a Mastership designation. He uses only the most up to date technology in his office in Rock Hill, SC, including CEREC. If you have a broken dental crown, don't hesitate to contact us at (803)-324-5301.