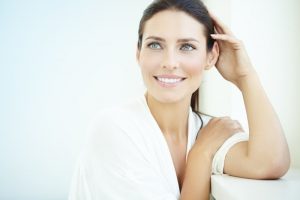 You may know that good oral hygiene can give you a clean smile, but did you know it could lead to a longer, healthier life? Common dental issues like gum disease are linked to higher risks of problems like heart attacks, strokes, certain cancers, diabetes, and even Alzheimer's. That's why October is National Dental Hygiene Month—an effort to raise awareness on the importance of maintaining good oral health. Keep reading to learn some of the best ways to keep your smile in shape!
It All Starts at Home
Nothing is more important for your oral health than a daily routine. This should consist of brushing twice a day, once in the morning and once at night, for two minutes each session. Be sure to thoroughly clean your gumline as well, angling your brush at a 45-degrees for the best cleaning. It's also important to floss your teeth once a day. This simple step removes plaque, bacteria, and food debris that hide in between your teeth.
Lastly, you can add an ADA-approved, nonalcoholic mouthwash to your routine for a finishing touch of clean. A portion of your mouth can't be reached with brushing and flossing, which is why mouthwash is a great option. Just remember to avoid rinses with alcohol because those products can dry out your mouth, promoting bacterial growth.
See Your Dentist
Just like you take your car in for an oil change or routine inspection, it's important to see your dentist twice a year for regular checkups and cleanings. These appointments are vital because they prevent and detect oral health issues before they become more serious. For example, a simple cavity can turn into a root canal if it isn't treated early, and gum disease is completely reversible in its early stages. Your dentist will carefully check your mouth for these issues as well as any type of infection, bite problems, oral cancer, or other abnormalities. Dentists alone catch 84% of oral cancers each year, making these routine visits potentially lifesaving.
During the cleaning portion of your visit, your dental hygienist will be able to give your smile a thorough cleaning, reaching places that you couldn't get to at home. They will also be able to give you some more specific tips on how to keep your mouth healthy after spending some time cleaning your smile.
Especially during October, the season of sugar, remember to maintain your routine and see your dentist! If you follow these tips, you can keep your smile happy and healthy during National Dental Hygiene Month and beyond.
About the Practice
Dr. Paul Coombs & Dr. William Ross combine their decades of experience with a passion for quality care to deliver the best treatments for their patients. They know the importance of preventive care, which is why they want to celebrate National Dental Hygiene Month. For any questions, they can be reached through their website or by phone at (803) 324-5301.