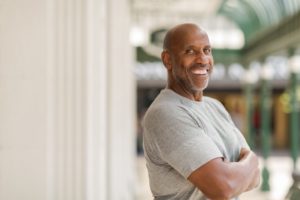 While it's always important to take care of your teeth and gums if you're an older adult, it's particularly crucial nowadays during the COVID-19 pandemic. Maintaining great oral health will help keep your immune system strong and lower your risk of needing to go out into the world for urgent dental care. Thankfully, a few simple habits can go a long way in keeping you and your smile healthy in these unusual times. Read on you your Rock Hill dentist shares five quick and easy tips you can use to lower your risk of a dental emergency and keep your smile happy and healthy.
1.) Keep Up Your Oral Hygiene Routine
The best way to protect yourself from issues like tooth decay, gum disease, and many more is to keep your mouth clean and free of plaque. Make sure you're taking the time to thoroughly care for your pearly whites by:
Brushing your teeth for two minutes twice a day.
Flossing between all your teeth daily.
Rinsing with antiseptic or fluoridated mouthwash regularly.
2.) Be Careful with Your Dentures
The last thing you need while practicing social distancing during the COVID-19 pandemic is a set of broken dentures! Always be careful when handling your dentures and never soak them in hot water. It's a good idea to lay a towel over hard countertops or sinks you may be standing over when taking out your dentures in Rock Hill to cushion their fall just in case you drop them.
3.) Watch for Changes in Your Mouth
Oral health issues like gum disease and mouth cancer will often only cause pain or discomfort once they pose a considerable threat to your health. Keep an eye on your teeth and gums for any unusual changes that need to be seen by your dentist right away, such as:
Puffy, bleeding gums with loose teeth.
Unusual lumps, discoloration, or numbness in the mouth.
Swelling in the gums or jaw.
4.) Keep in Touch with Your Dentist with Teledentistry
If you have any questions or concerns about the health of your smile, teledentistry can help you safely get in touch with your dentist. These virtual visits are conducted online through a secure patient portal from the comfort of your own home. Your dentist will be able to assess your situation and instruct you what to do next. You may be able to manage your situation at home, or they may recommend you come in for an in-person appointment in their impeccably clean office.
5.) Practice Healthy Habits
A few simple healthy habits can help boost your oral health, which in turn promotes a stronger immune system, like:
Eat a balanced, nutritious, and low-sugar diet.
If you drink alcohol, don't have more than one or two drinks a day.
Quit using tobacco products or reach out to your doctor for help.
In the COVID-19 pandemic, it's more important than ever to keep your smile clean, sparkling, and strong. Keep these five easy but effective tips in mind to keep yourself and your smile safe and healthy.
About the Practice
At Coombs & Ross Family Dentistry, nothing is more important to us than the wellbeing of our patients, staff, and community. To provide the smiles of Rock Hill the dental care they need while safeguarding their overall health, we've reopened our practice with 26 additional infection protocols. Alongside the sanitation standards set forth by the CDC that we've always followed, these precautions ensure that our practice is as clean, safe, and germ-free as possible so you can get the dental care you need. If you'd like to learn more about our Commitment to Safety, you can learn more on our website or by calling (803) 324-5301.