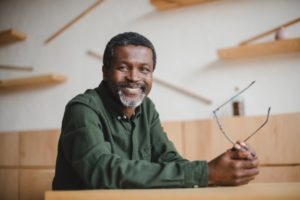 Have you lost most or all of your teeth? If so, you're probably one of the millions of Americans who have completed their smiles with dentures. These prosthetic teeth allow you to eat, speak, and smile like you haven't been able to since before your tooth loss. After a few years, though, you may have noticed that dentures sometimes slip around or even fall out of your mouth. While it may seem like only a minor annoyance, poorly fitting dentures in Rock Hill could potentially turn into a life-threatening problem. Read on to learn more about the dangers of ill-fitting dentures and how to recognize and prevent them.
Signs That Your Denture Doesn't Fit Correctly
The most common symptom of an ill-fitting denture is the feeling of your prosthesis sliding around, which can often be remedied with denture adhesive. Be on the lookout for these signs as well:
Broken teeth – If you break any of your artificial teeth, do NOT place your denture back in your mouth or attempt to fix it yourself. It may lead to greater damage.
Difficulty chewing – Your dentures may not fit correctly if you're having trouble eating.
Pressure sores – Dentures that fit well should evenly distribute pressure throughout your mouth. Uneven pressure can cause sore spots on the gums.
Speech problems – Whistling sounds, lisps, or slurring speech are all common signs of badly fitting dentures.
If you notice any of these problems, you should contact your dentist in Rock Hill right away to avoid the potential health consequences.
The Health Risks of Poorly Fitting Dentures
Poorly fitting dentures are more than just an inconvenience. If your dentures are loose, bits of food might get trapped in the space between your prosthesis and your gums, attracting bacteria that cause gum disease. This infection can result in serious irritation and inflammation in the gums. Frequent inflammation may lead to permanent cell damage.
But that's not all. Gum disease has recently been linked to a higher risk of oral cancer, which is one of the most fatal types of cancers. Gum disease also greatly increases your risk of multiple health conditions, including heart disease, diabetes, and osteoporosis, all of which can become life-threatening.
The good news is that these problems are entirely preventable as long as you have a denture that fits properly. If you suspect your denture needs to be adjusted, give your dentist a call!
About the Author
At Coombs & Ross Family Dentistry, our dentists utilize the latest technology to create dentures that look and feel incredibly lifelike. With their decades of combined experience, Dr. Coombs and Dr. Ross look forward to giving you a comfortable, reliable denture. To learn more about whether your denture needs to be repaired, you can contact them by calling (803) 324-5301 or visiting their website.