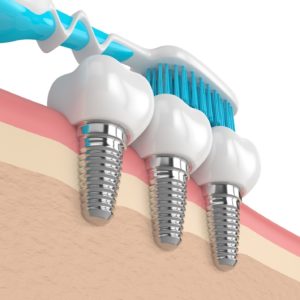 If you're ready to take the leap to invest in dental implants, you're making a great decision for your smile. You'll benefit from a nearly perfect replica of your real teeth using a solution that can last for decades. You won't want anything to compromise the success or longevity of your new smile. Here's what to expect with your dental implant aftercare to safeguard your investment.
Recovering from Dental Implant Surgery
The first step to rebuilding your smile is to surgically place an implant post into your jawbone to serve as a root. Sedation or anesthesia will be used, so you won't feel anything during the procedure. Since you'll require oral surgery, you can expect there to be a recovery period, which will include:
Bleeding
The surgical sites may bleed for up to 24-48 hours. You can control it by biting on a piece of gauze. If the bleeding worsens and doesn't stop after using a gauze pad for at least 30 minutes, contact your dentist for additional instructions.
Swelling
You can expect there to be swelling for the first couple of days. You can help minimize it by applying a cold compress to the outside of your mouth for 10-minute intervals as much as possible for the next 48 hours.
Pain
Take any prescribed or over-the-counter medications as recommended by your dentist to control your pain. Most patients report the pain to be less than that of an extraction, which should gradually improve around day 3.
Diet
It's important to stay hydrated while recovering. It's best to stick to soft foods for the first couple of days after your procedure. Avoid anything hot or spicy. You can resume your regular diet as your mouth heals; however, skip anything that has sharp edges, like taco shells or chips.
Oral Hygiene
Your oral hygiene is crucial for your mouth to heal properly. You may be advised to use a special mouthrinse the night before your surgery, as well as in the morning and before bed the day after your procedure.
You'll also need to brush your teeth and around the healing abutments at least twice a day. Gently clean the surgical sites, too. Don't forget to floss between your natural teeth. A warm salt water rinse can also rid harmful bacteria in your mouth while also reducing pain and inflammation.
Enjoy a Successful Solution
Dental implants are a big commitment. Don't let a preventable issue compromise your new smile. Follow your dentist's aftercare instructions and get plenty of rest to ensure your dental implants in Rock Hill serve you for many years to come.
About Dr. Paul Coombs
Dr. Coombs has over 36 years of experience in the dental field. He has a diverse background from advanced training in many specialties, including dental implants. He has completed continuing education courses through the Pankey Institute of Dentistry, SPEAR Education, and many other prestigious programs. If you're ready to replace your missing teeth, contact our office today to schedule your consultation.