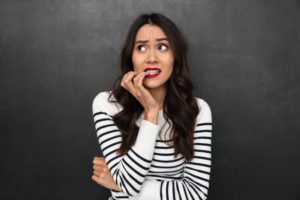 Have you gotten one or more of your missing teeth replaced with dental implants? If so, then you already know that they have the potential to last for an entire lifetime. As durable as dental implants are, though, they can only last this long if you take good care of them. Unfortunately, many bad habits can damage your implants to the point where they fail. To ensure your dental implants in Rock Hill provide you with a complete smile for decades to come, quit these five habits.
1. Not Maintaining Good Oral Hygiene
Dental implants can't get cavities, but that doesn't mean you can stop brushing and flossing! If you don't keep up with your daily oral care routine, plaque could accumulate in your mouth. Eventually, this plaque damages the tissues that hold your implants in place, which may lead to dental implant failure. Just like with natural teeth, you need to brush twice a day and floss at least once a day.
2. Smoking (or Chewing) Tobacco
Tobacco use is terrible for your entire body, and your mouth is no exception. Not only does smoking impair your body's ability to heal, but it also increases the risk of oral cancer and infections. In fact, research shows that dental implants are two to three times more likely to fail in smokers than in nonsmokers.
3. Overindulging in Sugar
Eating too many sweets doesn't just cause tooth decay; it also drastically raises the chance of developing gum disease. When the gums become infected, bacteria can destroy the tissues that support your dental implant as well as your natural teeth. In fact, gum disease is the leading cause of tooth loss among adults in the U.S. Although gum disease can be treated, it's best to prevent it by reducing your sugar intake.
4. Biting Your Fingernails
Many people mindlessly chew on their nails when they're bored or stressed, but this habit can all too easily crack a tooth or a dental implant restoration. Not only that, but nail-biting can introduce bacteria into your mouth that infect the gums supporting your implant. When you feel tempted to bite your fingernails, try chewing a piece of sugar-free gum instead – it comes with the added bonus of cleaning your teeth!
5. Using Your Teeth as Tools
Opening bottles or packaging with your teeth may seem like a nice time-saver, but it places serious pressure on your teeth and dental implants that can weaken them over time. To avoid the temptation to damage your smile, always keep the correct tool handy.
After you've reconstructed your smile with dental implants in Rock Hill, you'll want to protect your investment! As long as you do your best to break these five bad habits and schedule two dental checkups per year, you can expect your dental implants to last for decades, if not for the rest of your life.
About the Practice
Our team at Coombs & Ross Family Dentistry has more than 20 years of experience helping patients of all ages maintain healthy, complete smiles. We partner with skilled dental implant specialists in the Rock Hill, SC community to ensure our patients receive the highest quality of care. To learn more about caring for dental implants, or if you're interested in getting dental implants for the first time, don't hesitate to visit our website or give us a call at 803-592-6201.