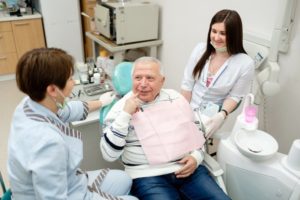 When you hear "summer," your mind may drift to thoughts of delicious, mouthwatering foods. Corn on the cob, hamburgers, hot dogs, watermelon, you name it! Are your missing teeth making it difficult to enjoy your favorite seasonal treats at the summer cookout? You might be considering getting dental implants in Rock Hill. If you've been hesitant to commit, now's the time to make a move. Here are a few reasons why the sunny season provides the perfect opportunity to start treatment.
Dental Implants Restore a Youthful Appearance
Common side effects of missing teeth are facial sagging and thinning lips, making you appear older than you are. Dental implants are the secret to stopping premature aging! Since they're attached to the jawbone rather than resting on your gums, they preserve your facial structure and prevent wrinkles from forming around the mouth. Implants help restore a youthful appearance, giving you a reason to beam with confidence once again.
Enjoy a Natural-Looking Smile
Are you hesitant to start treatment because you're concerned the result will look overdone? With dental implants, you don't have to worry about sporting a smile that looks like you've had work done. They're the most natural-looking solution for missing teeth!
The implants are secured into the jawbone, meaning they won't slip and slide around like dentures. Plus, the restorations secured by implants mimic your natural enamel and blend seamlessly with your teeth. The final product looks, feels, and functions just like your real grin.
Heal Just in Time for the Holiday Season
If you want to indulge in all the holiday season feasts with a completely functional and restored smile, start your journey with dental implants now! It may take a few months for the implant site to heal, so beginning treatment during summer will ensure you're good to go by December. Plus, you can flash your gorgeous pearly whites in all the Christmas photos!
You Can Take It Easy
During the sunny season, most people like to sit back, relax, and take a break from the daily grind. Why not take advantage of your downtime and rebuild your smile? During the recovery period, you're encouraged to rest as much as possible.
Since you're planning on doing that anyway, summertime will make the healing process a breeze! You can still enjoy your leisurely days by the pool or outside with your family, except now you'll get a beautiful, new grin out of it.
Are you ready for a smile upgrade? Make room in your summer schedule for a consultation with your dentist. The sooner you get dental implants in Rock Hill, the sooner you can get back to enjoying life the way you used to!
About the Practice
At Coombs & Ross Family Dentistry, we have been working hard for smiles in the Rock Hill area for more than 20 years now. Our practice prioritizes quality work so that you and your loved ones can trust our experience and dedication to patient satisfaction. If you are interested in dental implants, we are partnered with trusted local implant specialists and also offer implant dentures. Schedule a free consultation on our website or call (803) 592-6201.