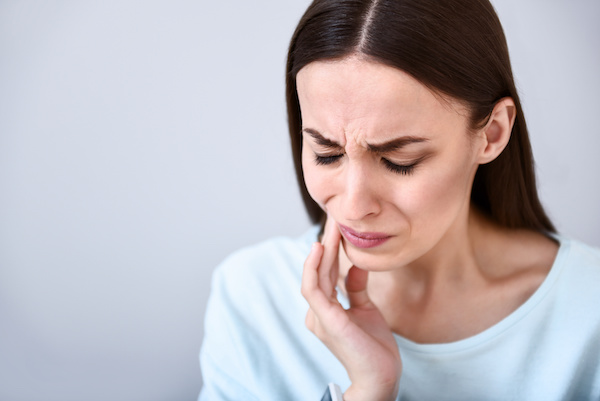 If you can always be found with a pack of chewing gum in your pocket or purse, or if the thought of breaking through the midday slump without popping a stick of double-mint fresh in your mouth, then you may have a chewing gum habit. Your breath smells fantastic, but how is your jaw doing? Chronic jaw pain caused by TMJ disorder can be associated with excessive gum chewing. Keep reading to learn more about the connection and where you can find treatment for your discomfort. 
How Chewing Gum Triggers Jaw Pain
The TMJ, or temporomandibular joint, is a delicate network of nerves, bones, and ligaments that allows you to open and close your mouth. When something goes wrong with its alignment – either from an injury like a blow to the face, stress from crooked teeth, or from excessive use, chronic jaw pain may develop as a result. This is classified as TMD, or temporomandibular joint dysfunction (commonly referred to as simply TMJ). Because chewing gum repeatedly works your jaw, in excess, it is a common cause of TMD/TMJ.
The symptoms of TMD/TMJ include the following:
A dull, chronic ache in the jaw
A clicking, popping jaw
Frequent headaches or migraines
Ear pain
Worn teeth
Facial pain
Lock jaw
How to Seek Treatment for TMJ
If you have cut back on your gum chewing habit and are still experiencing discomfort in your jaw, it is time to seek a solution. Partnering with your dentist is the best way to find the relief you need. As an expert in all things related to the function of your mouth, your dentist can help pinpoint the problem and find an appropriate treatment. There are a number of options available depending on what is causing the issue. Two common treatments include braces for misaligned teeth or getting fitted for an occlusal splint to reposition the jaw.
Some temporary ways to get relief from jaw pain include:
Taking an over-the-counter pain medication such as Tylenol or Aleve
Applying a warm compress to the area where discomfort is felt
Avoiding hard, sticky, or chewy foods that require lots of movement from the jaw
If you love chewing gum and this post resonated with you, don't wait to get in touch with your dentist to discuss treatment for TMJ! Relief is in sight when you partner with a professional for jaw pain.
Meet the Dentists
Drs. Coombs, Ross, and Sourlis offer excellent dental care for patients of Coombs & Ross in Rock Hill. From general checkups and cleanings to dental implants, dentures, and advanced treatments for TMJ, this team truly does it all. To learn more about their solutions for jaw pain, don't hesitate to get in touch with the office by calling (803) 592-6201.