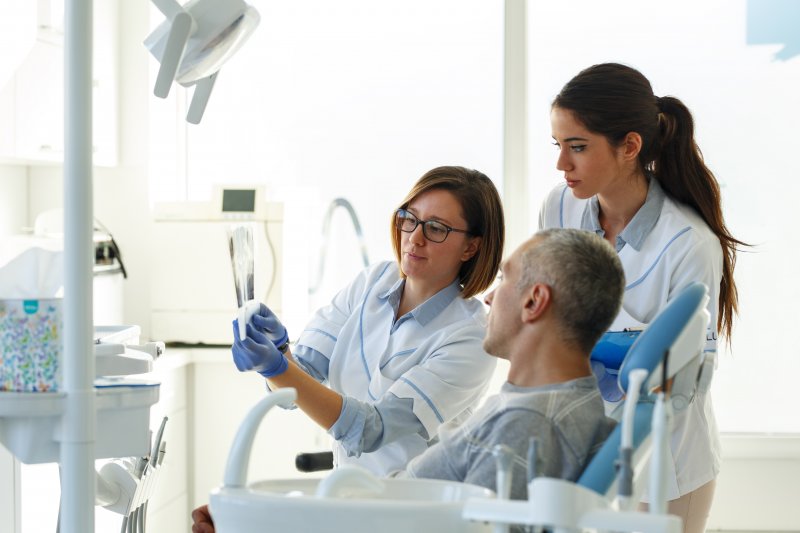 Are you struggling with tooth loss? One of the best ways to replace missing pearly whites is with dental implants. Not only will these metal posts restore your full smile, but they can also preserve your jawbone and youthful facial shape. However, you may be wondering if your dental insurance will cover your treatment. Keep reading to learn what you should expect from your benefits and the advantages of receiving dental implants!
Does Dental Insurance Cover Dental Implants?
This may depend entirely on each patient's plan, but it is possible to get coverage for your dental implants. Though the titanium posts aren't typically considered "medically essential," there are portions of the treatment that can be covered by your insurance company. For instance, 50% of the cost of the restoration—such as the crown or bridge attached to the dental implant—could be paid for. Additionally, other preliminary treatments, like gum disease therapy, may be qualified. Your insurance provider will likely also consider the reason you're wanting dental implants in the first place, such as if you lost your pearly whites after a serious accident.
6 Benefits of Dental Implants
The overall cost of this treatment is an important factor when deciding if this option is best for you. However, it's also essential to consider the incredible benefits you can enjoy from dental implants. Though the initial value may be higher than other restorations, they may be the most cost-effective treatment in the long term. Here are several advantages you can expect from dental implants:
Stimulates and preserves your jawbone and youthful facial shape.
A completely customized solution for your smile.
A durable and natural-looking restoration.
Comes with no food restrictions, as you can enjoy all your favorite meals.
Requires minimal dental care to maintain, like brushing, flossing, and visiting your dentist routinely.
Can last several decades to a lifetime with proper care.
Why You Should Use Your Benefits Before the End of the Year
If you're interested in getting dental implants, then you'll want to consult your dental insurance provider about the details of your benefits. This is because most policies reset at the beginning of the calendar year (January 1st). You can also speak with your dental team, and they'll be more than happy to help you navigate your insurance plan and ensure that you maximize your benefits.
Make sure to schedule an initial consultation with your dentist and bring all of your current dental insurance forms to your appointment. From there, your team can walk you through your policy, discuss your financing options, and help you make a well-informed decision on whether or not dental implants are the right treatment for you!
About the Author
Dr. Paul Coombs received his dental doctorate from the Medical University of South Carolina and has delivered outstanding care for well over three decades. He's also a proud member of several prestigious groups like the American Dental Association and the International College of Dentists. He provides a wide selection of advanced and comprehensive services, including dental implants. If you'd like to discuss your dental insurance, visit his website or call him at 803-592-6201.