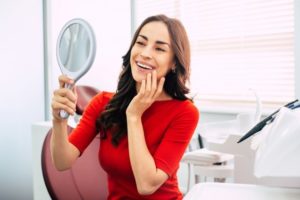 Dental implants are among the most revolutionary of all tooth restoration treatments. They're able to fully restore lost teeth in terms of look, feel, and functionality—and with proper care, they can last for a lifetime. However, there are still certain habits that pose a serious threat to dental implants if you aren't responsible! Here are five things you should absolutely avoid if you have dental implants and you want them to last.
#1. Nail-Biting
This habit is common among those who are anxious, stressed, or even bored; however, it can quickly lead to chipped teeth and dental implants alike! Additionally, your nails are vehicles for bacteria to enter your mouth and cause infection; when this happens and your gums become compromised, your implants can become loose. Sugarless chewing gum is a fantastic and healthy alternative to biting your nails; plus, it tastes great and will freshen your breath!
#2. Using Your Teeth as Tools
Sometimes it's tempting to use your teeth to unscrew a bottlecap, hold your keys when your hands are full, or tear open plastic packaging; however, this sudden harsh pressure can not only damage your teeth or dental implants but also hurt your jawbone! It's always better to keep a toolbox or drawer full of tools handy, rather than relying on your pearly whites.
#3. Smoking or Using Tobacco
Smoking is notoriously bad for you in general, but the habit is especially harmful to your mouth and dental implants. In fact, studies show that smokers are three times more likely to lose their implants than non-smokers! This is because smoking can slow down your body's healing process and prevent your implant sites from healing properly. Smoking also increases the risk of problems such as gum disease and infection, and in more serious cases, even oral cancer.
#4. Consuming Too Much Sugar
Sugary treats and starchy snacks are notorious for causing tooth decay and gum disease—and bacterial infections in the gums are one of the leading causes of tooth loss! This can lead to jawbone damage as well as the destruction of the connective tissues that hold your natural teeth and implants in place. Actively trying to consume less sugar and cleaning your teeth after eating sugary items will go a long way in the fight against tooth decay and cavities.
#5. Skipping Dental Checkups
If you have dental implants, it's crucial to visit your dentist twice a year for routine dental care! These visits allow your dentist to inspect your implants for potential problems, as well as assist you in maintaining their durability. It may not always be convenient to attend these visits, but you should absolutely make it a priority if you want your restored smile to last for a lifetime.
Your dental implants are an important addition to your mouth; avoiding these five bad habits will go a long way toward prolonging their lifespan.
About the Practice
The team at Coombs, Ross and Sourlis Family Dentistry is thrilled to serve the dental needs of patients and families in the Rock Hill community. The practice offers a wide range of services including tooth restoration solutions like dental implants. If you have any questions about dental implants or would like to arrange a visit, you can contact the practice online or over the phone for further information: (803) 592-6201.