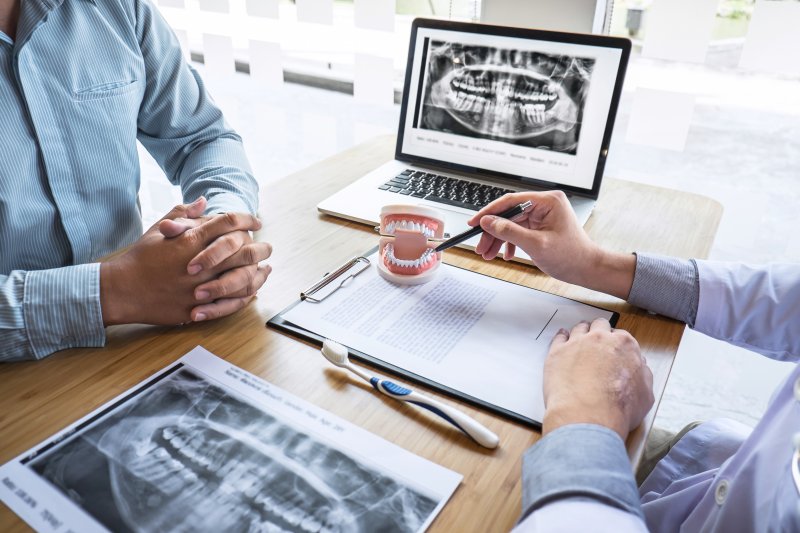 So, you're planning to get dental implants. That's great news – such prosthetic teeth will restore and beautify your smile! Remember, though, that you can't get these restorations immediately. You'll need to have a dental implant consultation before treatment can start. Otherwise, you may not feel confident in your dental choice. As for what to ask at the visit, your Rock Hill dentist has you covered. Here, then, are three questions to bring up at your upcoming dental implant consult.
"What Qualifies You for Implant Placement?"
Before anything else, ask the dentist about their implant qualifications. You'll want someone with proper training and experience to ensure effective treatment.
For instance, learn about the dentist's prior education. Did it involve dental implants, as well as a postgraduate degree? If so, then they may be knowledgeable about implant placement.
Similarly, find out how much experience the practitioner has. Those who've placed hundreds (or more) of dental implants will have the know-how for effective care. Of course, ensure that prior history includes a high implant success rate!
"How Long Would Treatment Take?"
It helps to know your treatment timeline beforehand. That way, you can easily make the necessary adjustments to your schedule.
That said, the timeframe for implant placement depends on various factors. One, naturally, is how many implants you're getting – it can take an hour to place just one. Another is your jaw's bone density, as you may need bone grafting first if it's low.
Sometimes, a dentist can estimate treatment time based on prior experience.
How Does the Recovery Process Work?"
Following placement, your jaw and mouth will likely feel a bit sore. As such, you should take it easy in the days after the initial surgery.
Your ache will fade naturally, but there are ways to manage it in the meantime. One method is to place a cold compress near the affected area, while another is to take ibuprofen. It's also best to only eat soft foods during these days, as doing so prevents discomfort.
Within a week, your mouth should start to feel better. You'll then be well enough to eat regular foods, though you should still avoid anything sharp.
Ultimately, you'll want to ask the right questions at your dental implant consultation. Therefore, remember to use ones like those above!
About the Practice
Coombs, Ross, & Sourlis Family Dentistry is based in Rock Hill, NC. Led by Drs. Coombs, Ross, and Sourlis, our practice offers personalized dentistry with amazing results. In particular, we perform top-notch preventive, cosmetic, and restorative treatments, as well as emergency dental care. Naturally, then, you can also count on us for dental implant restorations! For more information or to book a visit, you can reach us on our website or by phone at (803)-592-6201.