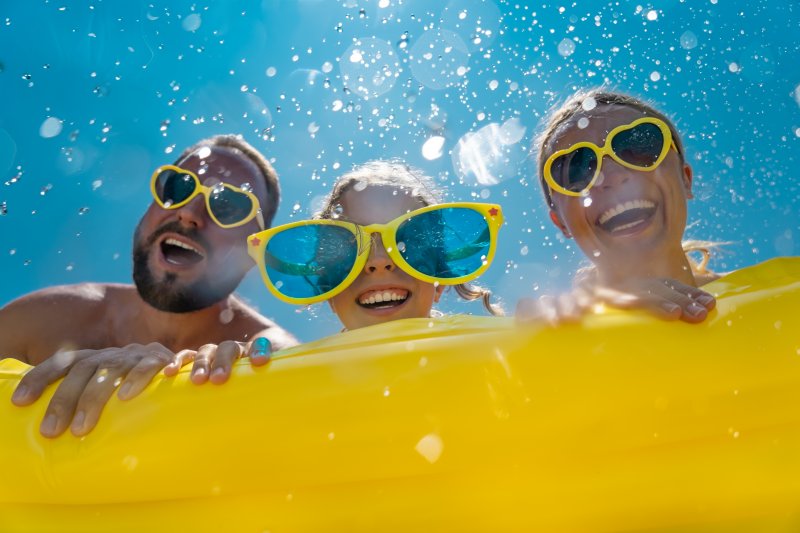 Summer is here again, so you're likely eager for fun in the sun. That's only natural – this season has many unique activities to enjoy! It's those pastimes, in fact, that make summer vacations worthwhile. Still, try to be careful as you engage in these seasonal hobbies. Some of them can actually hurt your teeth and gums. Fortunately, your local Rock Hill dentist can tell you which ones deserve caution. To that end, protect your smile from the three summer activities listed below.
Pool Swimming
Whether near home or at a resort, swimming in a pool is a summertime favorite. However, don't be careless – this activity could ruin your smile.
The problem has to do with chlorinated water. When this liquid has a pH balance below 7, it's acidic enough to erode tooth enamel. The effect is even worse if you swim with your mouth open, letting the water reach your teeth.
For a safer swim time, then, check the pH balance before you take a dip. If you can, set it somewhere between 7.2 and 7.8.
Summer Sports
Summer sports are a great way to get your blood pumping. That being said, they can just as easily cause oral problems.
You see, various sports put you at risk of dental injuries. Baseball, for example, might have a pitcher throw the ball at your mouth. On the other hand, you could easily knock out a tooth while biking or skateboarding. Flag football, meanwhile, might result in a player collision where your teeth get hit.
Of course, it's possible to prevent a sports-induced dental emergency. One option is wearing a mouthguard to protect your mouth against blows. You can also move more slowly and deliberately to avoid accidental falls.
Treats & Drinks
Summer is the hottest season, so many people spend it with ice cream, soda pop, and other cool refreshments. Even so, however, these treats aren't great for teeth.
For starters, these items are high in sugar — the carb well-known for causing tooth decay. Having them in excess can thus cause cavities, tooth infections, and worse. Needless to say, such effects are best avoided.
At the same time, cold summer products can be painful for sensitive teeth. Pearly whites with exposed dentin struggle to handle extreme temperatures, high or low. Consequently, biting down on a frozen treat could cause unpleasant soreness.
Summer doesn't have to be a bummer for teeth. So long as you protect your smile from the hobbies above, your oral health will stay steady and strong!
About the Practice
Coombs, Ross, & Sourlis Family Dentistry is based in Rock Hill, NC. Led by Drs. Coombs, Ross, and Sourlis, our practice offers friendly and comfortable dentistry. To that end, we customize our preventive, cosmetic, and restorative services to each patient's smile. Our team also performs emergency dental care as needed. Therefore, you can trust us to give you a durable and healthy grin! For more information or to book a visit, you can reach us on our website or by phone at (803)-592-6201.