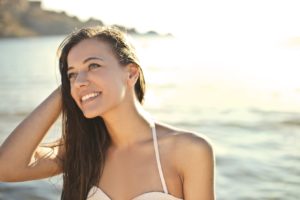 Warm weather and sunny days are here! Summer is a great time to head to the beach to enjoy the cool water and soak up the sunshine. As you work on your tan or head to the gym for a beach-ready body, don't forget about your smile. If you're embarrassed by the way your teeth look, you don't have to worry about stains, chips, or gaps. Your dentist can transform your smile and boost your self-esteem with the latest solutions in cosmetic dentistry. You'll look and feel your best with a smile makeover.
Benefits of an Attractive Smile
You can't put a price on the benefits of a stunning smile. Researchers have found that the appearance of your teeth can affect your self-esteem. You might avoid showing your teeth when smiling in certain social settings. Improving your smile is an investment in your confidence and professional image because attractive teeth are associated with youth, confidence, and success.
What is a Smile Makeover?
A smile makeover addresses a variety of flaws using a personalized treatment plan. Every mouth and situation differs, so there's no one-size-fits-all solution. After examining your mouth and learning more about your goals, your dentist will explain which procedures are right for you, like:
Porcelain Veneers: Fix many imperfections at once by bonding veneers to the front surfaces of your teeth visible when smiling. You can have a dazzling smile in about 2 weeks using a minimally invasive method.
Dental Implants: Replace missing teeth using a solution that can last for decades. They have over a 95% success rate, so you'll never have to budget for replacements.
Teeth Whitening: Improve surface and age-related discoloration by up to 8 shades. Your results can last for many months or years with the correct care.
Metal-Free Dental Restorations: Tooth-colored materials are used to make restorations that blend in with your natural teeth.
Direct Cosmetic Bonding: A composite resin can fix minor imperfections quickly. It may be covered partially by your dental insurance if medically necessary.
ClearCorrect Aligners: Clear aligners can fix bite and alignment problems in about 12 months.
Your dentist will create a plan that meets your needs, budget, and timeline, so you'll have a beach-ready smile in no time.
Candidate for a Smile Makeover
Many people can benefit from a smile makeover. Generally, it's recommended to resolve:
Chips or Cracks
Missing Teeth
Crooked or Misshapen Teeth
Stains and Discoloration
Gapped or Overcrowded Teeth
Don't spend another summer feeling less than your best. Invest in the smile of your dream. You won't think twice before flashing your pearly whites after giving your smile a makeover.
About Dr. William Ross
Dr. Ross earned his dental degree from the Medical University of South Carolina and has regularly continued his education in many advanced services, including cosmetic and restorative dentistry. He has over 33 years of experience in the dental field. Dr. Ross is affiliated with several professional organizations, including the American Dental Association. Request an appointment online or call (803) 675-7179.