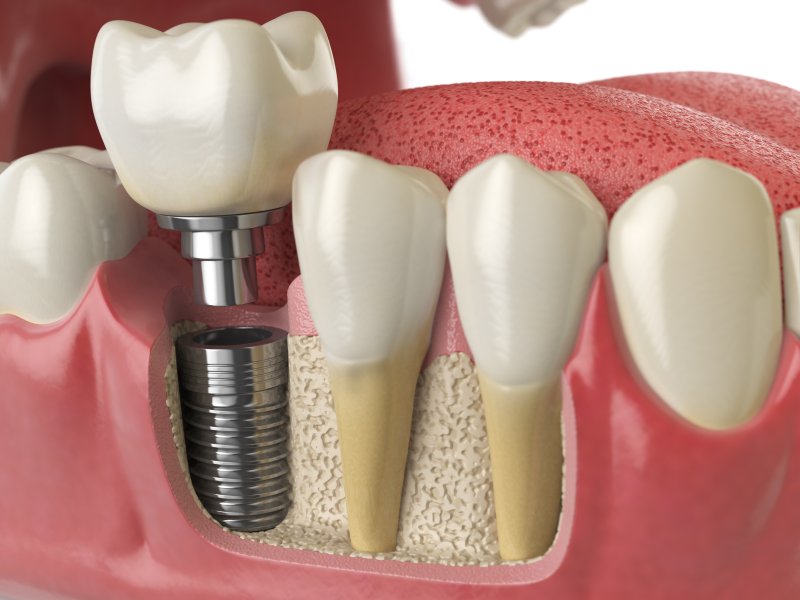 Dental implants are one of the most sophisticated methods of tooth replacement, connecting a high-quality restoration to the jaw in order to provide patients with a stunningly strong bite. This is done by implanting a titanium rod into the jaw and allowing it to fuse into bone.
However, while dental implants have an impressive reputation, the metal components lead some patients to worry about whether rust could potentially be an issue. If you're curious, here's what you should know about that prospect.
What You Should Know about Dental Implant Titanium
Titanium has long been the industry standard when it comes to not only dental implants, but medical implants across the body. This is partially because of the metal's unique ability to actually fuse into the bone tissue, which affords it incredible strength. However, it's also an incredibly durable metal, resistant to stress and tarnishing.
If you're picturing a dental implant covered with red, flaky rust, that's something you'll never have to worry about. Titanium doesn't oxidize in the way that, say, iron does.
Can Dental Implants Corrode?
Dental implants won't rust, but the moisture in the mouth can cause small electrical pulses that "zap" away portions of your dental implant. This is the process of corrosion, and over time it may potentially wear away your dental implant.
However, this takes an exceedingly long time to happen. Only a very small portion of patients wind up needing to replace dental implants due to corrosion. Most people could go a lifetime without needing to worry about corroded implants.
What Can Compromise a Dental Implant?
If you want to make your dental implant last for as long as possible, there are other things that you should likely worry about before corrosion.
The most prominent is infection, which when it progresses can begin to attack the bone tissue. In severe cases, this can completely compromise the integrity of the dental implant. For that reason, it's critically important for you to commit to solid dental hygiene, so you should brush, floss, and use an antibacterial mouthwash each day.
About Our Practice
At Coombs, Ross, & Sourlis Family Dentistry, we're happy to say that we've helped countless patients to get healthy, beautiful smiles. Being able to aid generations of patients in caring for their teeth is incredibly gratifying, and it inspires us every day to offer our patients the highest quality of dental care. When you come to us to rebuild your smile, we'll be with you every step of the way to make sure that your every need is attended to.
If you have any questions about dental implants, we can be reached at our website or by phone at (803) 592-6201.