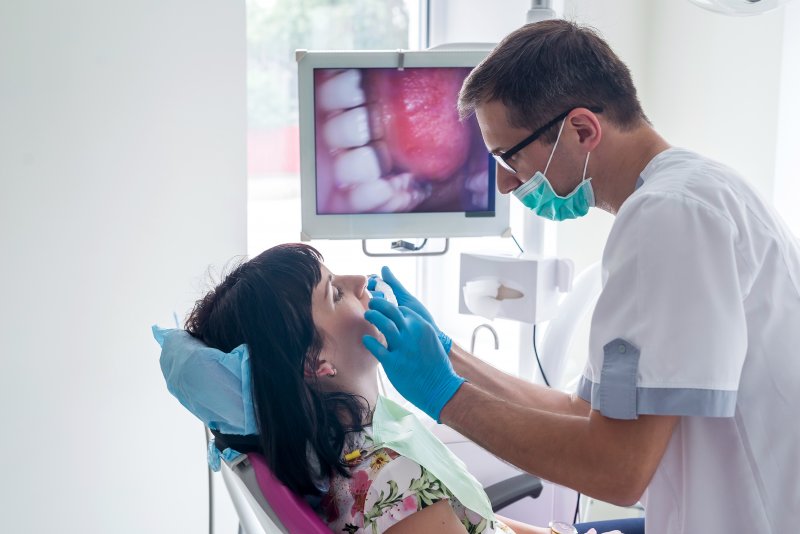 Are you considering getting a routine dental checkup and cleaning? During your visit, your dentist will monitor your oral health and provide professional polishing so you can walk out of the office with a cleaner smile. However, they may also use an intraoral camera to look inside your mouth! Read on to learn four ways you can benefit from choosing a dentist who uses this device.
Benefit #1: Helps Detect Oral Health Issues Early
One of the main reasons for a routine dental checkup is to prevent oral health problems from developing. Your dentist will need to thoroughly examine your teeth and other mouth tissues for any concerns they will need to address. An intraoral camera is an advanced tool that provides them a closer look at hard-to-reach areas in your smile. The image is sent to a screen so both you and your dentist can see inside your mouth!
Benefit #2: Improves Your Relationship with Your Dentist
Not only does an intraoral camera offer a better examination of your dental health, but helps you know what your dentist is looking for. They'll be able to explain and show your situation to you, that way you get a clearer understanding of any issues they find and what they mean for your overall well-being. By using this device, you can learn to feel more comfortable and trusting with your dentist in the long run.
Benefit #3: Helps to Recommend Accurate Treatment Solutions
Intraoral cameras utilize LED lighting, 90-degree head rotation, and strong magnification abilities for better visibility. This means your dentist will be more likely to detect mouth issues that are difficult to find, such as pulp exposures and vertical fractures. They'll also have a more precise assessment of which treatments you'll need to properly address your condition, and they can walk you through the plan along the way.
Benefit #4: Helps with Insurance Claims
Insurance companies sometimes need clarification about dental problems and their necessary treatments. By using an intraoral camera, your dentist will be able to conveniently capture high-definition images of your oral condition. These can then be used for visual proof in case of an insurance claim, which can be convenient for both you and your provider.
Intraoral cameras provide many benefits for maintaining your oral health. Speak with your dentist if you want to schedule a routine checkup, and you may be able to see this device in action!
About the Author
Dr. Paul Coombs graduated from the Medical University of South Carolina and has delivered exceptional care for over 30 years. He's also a member of several groups such as the Academy of General Dentistry and the International College of Dentists. He is proud to provide numerous comprehensive treatments, including dental checkups and cleanings while utilizing advanced technology like intraoral cameras to help you maintain your best smile. If you'd like to schedule an appointment, feel free to visit our website or call 803-592-6201.